Dorje Sempa purification mantra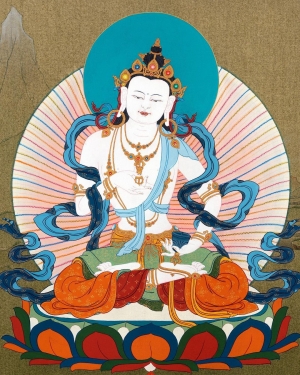 Probably  the best purification practice, according to Tibetan Buddhism, is meditation on Dorje Sempa and repetition of his mantra.
This is also the second part of the preliminary practices in all four traditions of Tibetan Buddhism.
Dorje Sempa (in Tibetan: Dorje Sempa, Sanskrit: Vajrasattva) or how we often call him in english – Diamond Mind – is considered a Boddhisattva in Mahayana and Vajrayana traditions. Usually we imagine him as an enlightned being, formed from light, in white colour skin, jewelleries and garments of Boddhisattva, holding a dorje in his right hand at the chest, and a silver bell on his knee in the left hand. He is sitting on the Lotus flower with his right leg hanging down, simbolizing his Bodhisattva activity and rediness to come and help. Dorje means "indestructible diamond" and Sempa is the Tibetan term for Sattva in Sanskrit and means "a heroic being," i.e., someone who is exclusively working for the benefit and welfare of others.
Dorje Sempa has been mentioned in the sutras, mostly in the Mahavairocana Sutra and the Vajrasekhara Sutra. Also there are Tibetan references to Dorje Sempa meditation in the tantric Terma("hidden teaching") that was concealed by Guru Padmasambhava for later times and was revealed by great Tertöns ("treasure revealers", high enlightened Lamas).
It was said that Dorje Sempa meditation is a great purification practise. And when we think about it – What exactly needs to be purified?! – we remeber that according to Buddha teachings – all our threefold actions – deeds, words and thoughts are leaving some impressions in our counsciousness and they are not leaving us by themselves as we would hope, but are creating tiny imprints in our counsciousness that forms our world today. The imprints of wrong actions, words and thoughts from this life and many former lifes are all accumulated in our counsciousness creating a new suffering, imperfections and obscuration in our life today. And meditating on Dorje Sempa and repeating his mantra can purify your mind, body and speach from all bad impressions in all lifetimes and give to your mind the absolute qualities of the Buddha-Mind – the clear light and joy, which is symbolized respectively by the dorje (vajra) and the bell.
The hundred-syllable mantra of Dorje Sempa is:
OM BENZA SATO SAMAYA
MANU PALAYA
BENZA SATO TENOPA
TISHTA DRI DO ME BHAWA
SUTO KAYO ME BHAWA
SUPO KAYO ME BHAWA
ANU RAKTO ME BHAWA
SARVA SIDDHI MEMTRA YATSA
SARVA KARMA SUTSA ME
CITTAM SHRI YAH KURU HUNG
HA HA HA HA HOH
BHAGAVAN
SARVA TATHAGATA BENZA MĀ ME MUNTSA
BENZI BHAWA MAHA SAMAYA SATO AH
O Dorje Sempa, protect the Samaya
Reveal yourself as the Dorje Sempa!
May you remain firm in me
Grant me complete satisfaction
Grow within me (increase the positive within me)
Be loving towards me
Grant me all the siddhis
Show me all the karmas (activities)
Make my mind good, virtuous and auspicious!(The heart essence, seed syllable of Vajrasattva)
(Symbolises the four immeasurables, the fourempowerments, the four joys, and the four kayas) (The exclamation of joy at this accomplishment)
O blessed one,
who embodies all the Tathagatas with Diamond Mind Do not abandon me
Grant me the realization of the Vajra Nature O great Samaya sattva Make me one with you
The approximate translation is given just for a reference only; the mantra is always chanted in Tibetan.
What is said in the mantra is that basically all impurities and obscuration in the mind have happened due to falling away from our primordial pure and enlightened mind, so called Buddha-mind. It has happened due to our breach of Samaya vows or vows of the Unity with Buddha-Mind. The Mahavairocana Tantra gives us 4 simple precepts we should abide to keep the unity with Dorje Sempa or in simple words – our Absolute Mind. They are:
Not to abandon the true Dharma
Not to deviate from one's own enlightened mind
Not to be reserved in sharing with others the Buddhist teachings
Not to bring harm to any sentient beings
When we repeat mantra, we are promising to Dorje Sempa not to breach our Samaya vows, asking Dorje Sempa to help us keep our vows of Unity and asking Dorje Sempa to keep his vows to liberate us from all impurities of the mind and wrongdoings.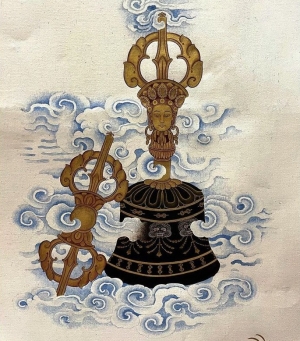 And after all we should remember that Dorje Sempa, the Diamond Mind is not some separate being, he is an aspect of our always present Buddha mind. He is always here with us. We only have forgotten him due to our obscuration.
To practice the mantra of Dorje Sempa it is advisable to have an initiation from a qualified Lama. However, if you are like me, you will start right away…. I have experienced great results from this meditation and seen great results in the lives of others, like curing different sorrows and sufferings, purifying drug-addicts and so on…
In the preliminary practices the 100-syllable mantra should be repeated 111'111 times, but of course, you can start with some 21 or 108 repetitions. After the repetition of the hundred-syllable mantra it is advisable to repeat also the short mantra of Dorje Sempa
OM BENZA SATO HUNG
After the meditation we always dedicate the merits to the benefit of all sentient beings.